Royale Parc Suites Hot and Cold Breakfast Buffet
Fluffy Scrambled Eggs
White and Wheat Toast
Quaker® Instant Oatmeal and Grits with toppings
Malt-o-meal®
Premium Coffees
Premium Teas
Cereal Assortment
2% Milk, Skim Milk
Sunkist® Apple Juice and Orange Juice
Lemonade
Variable Items (may not be on the buffet every day):
Pancakes . Biscuits . Gravy . Danishes . Fresh Fruit . Hormel® Ham Slices . Danishes . Sausage Patties . Yogurt . Aunt Jemima® French Toast
Pancakes & Syrup . Otis Spunkmeyer® Muffins . Southwestern Scramble
Complimentary Amenities at the Royale Parc Suites
Where Maximum Comfort and Value Come Together
Royale Parc Suites - a Quality Suites® Hotel offers the perfect balance of comfort and value-added amenities to ensure a fantastic vacation that doesn't break your budget. Located just 1.3 miles from Walt Disney World® Resort, our hotel possesses French Quarter charm and offers spacious suites with cotton-rich bedding, separate bedrooms with privacy doors and generously-equipped kitchenettes. We look forward to your stay and want to help you stretch your travel dollar with a number of complimentary amenities including:

FREE Scheduled Transportation to Walt Disney World® ticket & transportation center, Epcot®, Universal Studios® of Florida and SeaWorld®.
FREE Daily Hot and Cold Breakfast Buffet Served in Cajun Quarters—Guests Can Enjoy Their Breakfast Outside with a Gazebo Setting at the Sidewalk Café
FREE High-Speed Wireless Internet Access throughout the hotel
FREE Gourmet Coffee Bar in Hotel Lobby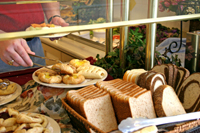 Our rates may not be the lowest in the Orlando area, but we offer the most value with countless amenities that go a long way in ensuring your complete comfort. The goal of Royale Parc Suites is not simply to meet your expectations, but rather to anticipate and surpass them.
Average Costs per Day for a Family of 4 at Typical Orlando Resorts:

| | |
| --- | --- |
| Buffet Breakfast | $42.88 |
| Transportation to and from Theme Parks | $49.50 |
| Internet Access | $10.65 |
| Gourmet Coffee Bar | $8.61 |
| Total Cost per Day | $136.25 |

The Complimentary Amenities at Royale Parc Suites Translate into Real Savings!

| | |
| --- | --- |
| Buffet Breakfast | FREE |
| Transportation to and from Theme Parks | FREE |
| Internet Access | FREE |
| Gourmet Coffee Bar | FREE |
| Total Savings per Day | $111.65 |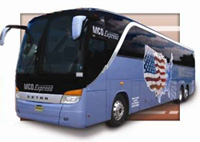 Free Shuttle to Attractions
Families traveling to Orlando can enjoy the best this magical area has to offer without squandering their travel budget on the extra touches and conveniences that make a good vacation truly unforgettable. The term value is thrown around quite a bit, but rest assured we deliver a wide array of tangible amenities completely free of charge that other Orlando hotels and resorts charge for. Call our courteous professionals at 800.268.6048 to learn more about the intrinsic value of staying at Royale Parc Suites!