Seven million annual visitors make Kissimmee-St. Cloud their vacation destination of choice. Affordable lodging options, world-famous theme parks, exciting entertainment, rewarding leisure options and a great location guarantee visitors a stay with memories to last a lifetime.
Entertainment
Kissimmee-St. Cloud is in the middle of all the theme park action. Right next door is the Walt Disney World® Resort, which offers an assortment of entertainment options that guarantee a memorable Central Florida vacation.
Boggy Creek Airboat Rides
Another great way to enjoy this magnificent Chain of Lakes is by airboat. Whether you want to glide over the water at a leisurely idle pace, looking for exotic birds, turtles and Florida alligators, or fly like the wind into the swamps at speeds up to 45 miles per hour, Boggy Creek Airboat Rides, 3702 Big Bass Road., is ready to take you on your next adventure. Hours: 9 a.m. - 5:30 p.m., daily. Call 407.344.9550.
Culture Quest
In Kissimmee, the Osceola Center for the Arts, 2411 E. Irlo Bronson Highway, is a visual and performing arts center. The Art Gallery has monthly shows of established and emerging artists. Hours: 10 a.m. - 6 p.m., Monday - Friday; and 10 a.m. - 4 p.m., Saturday, Closed Sundays, except for special events. Call 407.846.6257.
Old Town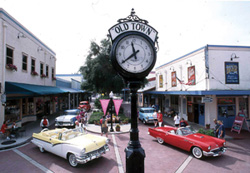 Old Town is just a block away from the Royale Parc Suites and features 75 unique specialty shops, eight restaurants and 18 thrilling amusement rides. This free-admission, free-parking attraction offers the look and feel of a Florida town at the beginning of the 20th century. Stop by on a Saturday night to see the largest weekly classic car cruise in the United States, showcasing hot rods, street rods and antiques. Old Town is open every day from 10:00 a.m. to 11:00 p.m., while the dancing and karaoke establishments stay open until 2:00 a.m.
Nature & Heritage
Many attractions in the area showcase the adventure and excitement that come with
discovering the natural side of Central Florida. At Boggy Creek Airboat Rides, visitors can catch a glimpse of alligators and even bald eagles as they skim over the headwaters to the Florida Everglades. To see what life was like before the theme parks, visit the Osceola County Historical Museum & Pioneer Center.
Leisure
Golfers can relax with a day on the links in Kissimmee-St. Cloud. The Harmony Golf
Preserve is the newest on the growing list of golf courses in the area. Designed by Johnny Miller, Harmony stretches 7,400 yards yet is suitable for all types of golfers. The 18,000 square-foot clubhouse includes banquet facilities, men's and ladies' locker rooms, an 18,000 square-foot pro shop, and more.
Shopping
The Kissimmee-St. Cloud area is transforming into a theme park of shopping. The new
Mall at Millenia introduced newcomers Macy's, Bloomingdales, and Neiman Marcus to the area and the Florida Mall continues to grow with the addition of Lord & Taylor and Nordstrom.
Location
The heart of the action in Kissimmee-St. Cloud is U.S. Highway 192. A $29 million BeautiVacation project widened the road to six lanes, brought colorful guidemarkers, wider sidewalks, more lighting, beautiful landscaping, and more to the well-known corridor. A converging network of roads connecting to Hwy 192 makes it even easier for travelers to get around Central Florida and other parts of the state. Major roads like Interstate 4, Florida's Turnpike, and the Greenway provide direct paths to Orlando International Airport, Tampa, Miami, and Florida's coastal beaches.