Enjoy the Best That Orlando Dining Has to Offer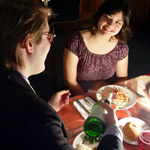 Orlando is a virtual cornucopia of culinary options. From a quick and energizing bite to fuel your tank for theme park fun to ideal locations for big family sit-down dinners, Orlando has it all.
The courteous and knowledgeable staff at Royale Parc Suites is happy to point you in whatever direction your palate is pulling you. From the freshest seafood and most authentic Italian to classic American, delicious Chinese, and award-winning Spanish cuisine, we are positive that you will find a restaurant to satisfy your craving.
Royale Parc Suites Hot and Cold Breakfast Buffet
Fluffy Scrambled Eggs
White and Wheat Toast
Quaker® Instant Oatmeal and Grits with toppings
Malt-o-meal®
Premium Coffees
Premium Teas
Cereal Assortment
2% Milk, Skim Milk
Sunkist® Apple Juice and Orange Juice
Lemonade
Variable Items (may not be on the buffet every day):
Pancakes . Biscuits . Gravy . Danishes . Fresh Fruit . Hormel® Ham Slices . Danishes . Sausage Patties . Yogurt . Aunt Jemima® French Toast
Pancakes & Syrup . Otis Spunkmeyer® Muffins . Southwestern Scramble
Breakfast and Evening Beverages at Royale Parc Suites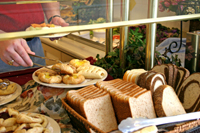 Start your day off right and get the energy you'll need for an action-packed day of theme parks, shopping and fun in Orlando. Our Cajun Quarters restaurant has been completely remodeled and offers a complimentary hot and cold breakfast buffet that includes pancakes, pastries, juices, oatmeal, fruit, eggs, cereal and more.
The Sidewalk Café is a gazebo-style outdoor dining area that overlooks our newly landscaped, lush courtyard gardens and pool area. Beautifully furnished with New Orleans-themed wrought iron tables and chairs, ceiling fans, and flat screen TVs, Sidewalk Café was designed for optimum comfort when you and your family are enjoying a delicious breakfast.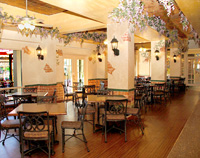 Frenchman's Cove is our poolside bar serving beer, wine and soft drinks every evening. The selection includes Budweiser®, Sutter Home®, and Coca Cola® products. Enjoy four new plasma screens for watching sports and a state-of-the-art music system to listen to your favorite tunes while enjoying a break by the pool.
Perky's Pizza (located inside the Royale Parc Suites) serves great pizza with your choice of toppings. Or visit our other restaurant, Cajun Quarters Restaurant, as well for delicious chicken wings, hot dogs, burgers, ice cold beverages and more!
Hours of Operation: 3:00PM - 11:00PM 7 days a week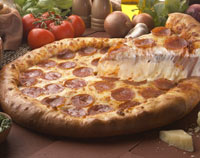 Discover well over 20 restaurants and lounges within walking distance of our hotel.